You will find on Your daily menu dishes and flavors of the Italian kitchen
The land of traditional dishes will satisfy the pleasure of your table following the traditional menu of the famous Italian kitchen
Start your day with a breakfast buffet, varied and balanced which includes a strictly home-made cakes together with the choice of salty food.
The kitchen offers a daily changing menu able to satisfy the most demanding palates.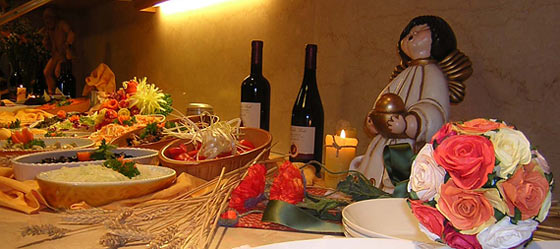 Everything will be preceded by a very rich and tasty buffet where the typical products of Italian and Trentino region territory   won't miss, pizzas, snacks and fresh vegetables in abundance.
Followed by a choice of three first courses and three main courses ranging from Italian cuisine with traditional dishes from Trentino suggested by ancient recipes.
Our chef is able to propose pastry strictly prepared in our kitchen.
Also, bread and other food is mostly homemade.
At the table you will find dishes that keep in mind the needs of both healthy vegetarian and vegan food, and will satisfy those who have food intolerances.
All this can be experienced in a bright room with a view to the countryside in a warm and cozy parlor. In addition, the summer garden becomes, once a week, the meeting outdoor place to enjoy the many grilled dishes of our tradition. All this to make a "usual lunch" in a sociable occasion.
The winery also offers you an excellent and exclusive choice of wines from Trentino Alto Adige.
Every Sunday we cheered our guests with an aperitif before dinner.